Pneumofore S.p.A., Vacuum Pumps and Air Compressors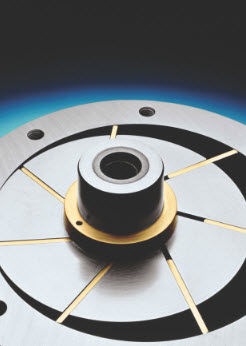 Pneumofore manufactures and provides full solutions for the supply of compressed air and vacuum in industrial plants worldwide. Specialized in rotary vane technology since 1923, Pneumofore offers professional expertise and international service over a wide range of integrated products for each customer´s needs. Constantly focused on minimal life cycle costs, Pneumofore has become the leader in centralized vacuum systems specially designed for the glass industry and IS machines.

Pneumofore creates, develops, manufactures, installs and services its own innovative products while setting the standard for high efficiency, high air purity, reliability and longevity.
Main Features of Pneumofore Products
Pneumofore engineers creates original solutions, providing the market standards of tomorrow from extreme climates designed compressors to the largest air-cooled rotary vane pump in the world.
Durability: rotary vane vacuum pumps and compressors sturdy constructed for 24 h operation and equipped with aluminum vanes
Energy and Cost Saving: a full range of air-cooled machines with the variable speed option, for the lowest Life Cycle Cost and the best return of investment
Easy to install: "Plug and Play" units with no need of foundation or water connection
Environment friendly: solutions that guarantee the lowest power consumption, no coolant vapor, reduced noise and no water waste, without compromise on efficiency.
Customer Satisfaction
Pneumofore customers range from small manufacturing plants to large multinational enterprises. From process specifications throughout layout and definition, installation, commissioning, operation and long-term maintenance needs, Pneumofore assists customers at every step.
As solution provider, Pneumofore provides engineering support to all clients for each application. Individual analysis and system design ensure the choice of the right products and the best technical result. Pneumofore also offers a complete after-market support for evaluation, maintenance, spare parts delivery and on- or offsite repair and overhaul.
Worldwide Distribution and Presence
With more than 45.000 units worldwide, Pneumofore machines and service can reach any country, thanks to an extensive distributor and after-sales network covering the entire international market. Our references in the glass industry include: O-I, Verallia, Ardagh, Gallo Glass, Envases Universales, Altajir, HNGI, Sisecam and many more.
---
Address
Company
Pneumofore S.p.A.
Vacuum Pumps and Air Compressors
Address
Via Natale Bruno 34
10098 Rivoli
Country
Italy
Phone
0039 011 950 40 30
Fax
0039 011 950 40 40
Email
Email Contact
Internet
www.pneumofore.com
Employees
50 - 60
Turnover
10 mio EURO
Certificates
UNI EN ISO 9001 and ISO 14001
Year founded
1923
Export Rate
85 %
Associations
GIMAV
---
Contact Info
| | |
| --- | --- |
| Name | Mr. Dipl.-Ing. Daniel Hilfiker |
| Position | President |
| Phone | 0039 011 950 40 30 |
| Fax | 0039 011 950 40 40 |
| Email | Email Contact |
| | |
| --- | --- |
| Name | Mr. Rolf Hilfiker |
| Position | CEO |
| Phone | +39 011 950 40 30 |
| Fax | +39 011 950 40 40 |
| Email | Email Contact |
| | |
| --- | --- |
| Name | Ms. Anastasiia Bratash |
| Position | Area Sales Manager |
| Phone | +39 011 950 40 30 |
| Fax | +39 011 950 40 40 |
| Email | Email Contact |
| | |
| --- | --- |
| Name | Mr. Gary Wilkinson |
| Position | Area Sales Manager |
| Email | Email Contact |
---
---
Products
Leader in vacuum systems for IS machines, Pneumofore developed the largest air-cooled single stage rotary vane vacuum pump worldwide, the UV100.
FULL PRODUCT RANGE
To accommodate any customer need or application requirement, we offer different technologies in a wide capacity range.
Pneumofore Rotary Vane Pumps and Compressors lead the market in energy savings: their design ensure long-term efficiency and the cost reduction of maintenance.
Specific solutions can be delivered for most demanding projects to ensure faster ROI or short-term installations. All products are in compliance with CE norms (European Community) and are available for any combination of voltage and frequency.
Vacuum Pumps
Sliding vane, single-stage, lubricated, up to 6.610 m3/h at 50 Hz and 0,5 mbar(a) residual pressure; up to 6.480 m3/h at 60 Hz and 0,5 mbar(a) residual pressure;
Air Compressors
Sliding vane, single-stage, lubricated: at 50 Hz, from 5,5 to 400 kW, from 70 to 4.930 m3/h, operative pressure from 2,5 to 10 bar(g); at 60 Hz, from 7,5 to 540 kW, from 83 to 5.360 m3/h, operative pressure from 2,5 to 10 bar(g).
Accessories for Vacuum
Demister Filters for separation of oil mist / graphite lubricant coming from the moulds on the IS machines, capacity up to 5100 m3/h;
Vacuum Receivers, volume up to 10 m3.
Accessories for Compressed Air
Fridge Dryers, capacity from 12 to 10.800 m3/h;
Adsorption and high pressure Dryers, on request;
Filters, capacity from 31,8 to 27.000 m3/h with residual coolant content down to 0,003 mg/m3;
Air Receivers, tested according to CE regulation, volume up to 10 m3.
SERVICE
Complete customer satisfaction regarding Spare Parts and Maintenance.
Assistance and troubleshooting is guaranteed through a dedicated division of Pneumofore with trained and experienced professionals.
Service Centers available on 5 continents.
PLANT ENGINEERING
The Pneumofore Engineering Team calculates the pneumatic system layout with all devices from the pump / compressor room to the spot of application. Available for consulting and customer support to respond to case-specific requirements. For new systems, please refer to the "Preliminary Specifications" in the download section.
---
---
News
Filetype
Filesize
MP4
99481046
Reference - Weck Glaswerk - English
Reference - Weck Glasswerk - English
download
MP4
102659651
Referenz - Weck Glaswerk - Deutsch
download
MP4
127139849
Video on O-I Vetrerie Meridionali
Great presentation of Pneumofore capabilities
download
PDF
2055225
Company Profile - English
download
PDF
3391650
Company Profile - Italian
download
MP4
27581452
Pneumofore Rotary Vane Air End for Compressors and Vacuum Systems
Description and Tutorial
download
PDF
1963879
UV Series Vacuum Solutions for Glass - Catalogue
Rotary vane vacuum pumps catalogue
download
PDF
1324772
A Series Air Compressors - Catalogue
A Series Rotary Vane Air Compressors - Catalogue
download
MP4
189166989
Pneumofore Compressors for Changyu Glass - High Energy Savings in Glass Manufacturing
download
MP4
199282218
UV100 Vacuum Pump
UV100 Vacuum Pump Twin rotary vane, variable speed, air cooled world´s largest Vacuum Pump with 220 kW
download
MP4
34277911
Pneumofore Sponsoring the Art of Glass Manufacturing - Pretiosa Vitrea
Report about the exhibition
download
PDF
2190310
No air, no bottle
Daniel Hilfiker, CEO, Pneumofore
download
MP4
405962583
Video on Air Compressor A400.4
download
PDF
642400
Casestudy: Siam Glass with Vacuum for Forming Precision
Vacuum implementation and fine tuning at Siam Glass, Rojana plant in Thailand
download
PDF
207079
Case Study: Vuoto per formatura di precisione in Siam Glass
Avviamento e messa a punto di un sistema per vuoto nello stabilimento Rojana di Siam Glass in Tailandia
download
MP4
245892
Animation ´Vacuum for Hollow Glass´ by Pneumofore
Life Cycle Cost considerations of vacuum pumps for IS machines, presented funny with gorgeous sound.
download
GIF
81640
300x250 Banner
Animated
download
PDF
6168371
Rotary Vane Vacuum Pump - UV100 VS220 HC model
UV100 rotary vane vacuum pump with variable speed and hot climate options
download
PDF
226202
Casestudy - Glass - Yantai Changyu Glass - English
The correct installation of the vacuum system allows much higher productivity
download
PDF
261101
Casestudy - Glass - Yantai Changyu Glass - Russian
Установка простой вакуумной системы обеспечивает повышение производительности
download
PDF
336827
Casestudy - Glass - Yantai Changyu Glass - Chinese
更好的真空系 统, 更高的机速和成品率
download
PDF
344223
Casestudy - Glass - Yantai Changyu Glass - Japanese
真空システムを正しく取り付けることで、さ らに高い生産性を可能にします
download
PDF
245892
Casestudy - Glass - Yantai Changyu Glass - Italian
La semplice installazione di un impianto per vuoto ha portato ad una produttività maggiore
download
PDF
237708
Casestudy - Glass - 3,5 bar Druckluft - German
Niederdruck-Kompressoren für IS-Maschinen in Korea
download
PDF
154500
Casestudy - Glass - 3,5 bar Air - English
Low Pressure Air Compressors for IS Machines in Korea
download
PDF
238355
Casestudy - Glass - Air comprimé à 3,5 bar - French
Compresseurs d'Air Baisse Pression pour Machines IS en Corée
download
PDF
236630
Casestudy - Glass - Aire a 3,5 bar - Spanish
Compresores de baja presión para máquinas IS en Corea del Norte
download
PDF
244290
Casestudy - Glass - 3,5 bar Air - Russian
Воздушные компрессоры низкого давления для стеклоформующих машин в Корее
download
PDF
32448
Vacuum Pumps: Preliminary Specifications
General Information and Description of the Application
download
JPG
61958
Rotary Vane Vacuum Pumps
Pneumofore UV50 and UV16 vacuum pumps
download
PDF
389693
Infosheet - UV Series - English
Product information for air-cooled, rotary vane vacuum pumps with capacities from 250 - 3240 m3/h.
download
PDF
383576
Infosheet - UV Series - Russian
Информация по роторно-пластинчатым вакуумным насосам с воздушным охлаждением производительностью 250 - 3240 м3/ч
download
PDF
394604
Infosheet - UV Series - German
Produkt Information für luftgekühlte Drehschieber Vakuumpumpen, von 250 bis 3240 m3/h.
download
PDF
115079
Infosheet - UV Series - Italian
Informazioni tecniche e di prodotto per pompe a vuoto rotative a palette, raffreddate ad aria, con capacità da 250 a 3240 m3/h.
download
PDF
828495
Infosheet - UV Series - Spanish
Información de producto sobre las bombas de vacío de paletas rotativas, con caudal desde 250 hasta 3240 m3/h
download
PDF
388475
Infosheet - UV Series - French
Informations sur le pompes à vide à palettes rotatives, avec débit de 250 à 3240 m3/h
download
PDF
1225615
Infosheet - UV Series - US
Product information for air-cooled, rotary vane vacuum pumps with capacities from 177 - 1908 cfm.
download
PDF
641470
Casestudy - Glass - Wiegand and Nampak - English
Pneumofore vacuum solutions for Wiegand and Nampak
download
PDF
642319
Casestudy - Glass - Wiegand and Nampak - Italian
Le soluzioni per vuoto di Pneumofore per Wiegand e Nampak
download
PDF
271189
Casestudy - Glass - Wiegand and Nampak - German
Pneumofore Vakuumlösungen für Wiegand und Nampack
download
PDF
680309
Casestudy - Glass - Wiegand and Nampak - Russian
Вакуумные станции Pneumofore для компаний Wiegand и Nampak
download
PDF
846497
Casestudy - Glass - Sevam - English
Vacuum Installation without Service Center
download
PDF
846455
Casestudy - Glass - Sevam - Italian
Impianto per il vuoto senza centro di assistenza
download
PDF
883532
Casestudy - Glass - Sevam - Russian
Вакуумные системы в отсутствие сервисного центра
download
PDF
846993
Casestudy - Glass - Sevam - Spanish
Installación de vacío sin centro de asistencia
download
PDF
660166
Casestudy - Glass - Sisecam - English
Vacuum for Sisecam in Turkey
download
PDF
690797
Casestudy - Glass - Sisecam- Spanish
Vacio para Sişecam en Turquía
download
PDF
690151
Casestudy - Glass - Sisecam - French
Vide pour Sişecam en Turquie
download
PDF
690046
Casestudy - Glass - Sisecam - Italian
Vuoto per Sisecam in Turchia
download
PDF
717583
Casestudy - Glass - Sisecam - Russian
Вакуумные системы для компании Sişecam в Турции
download
PDF
946905
Casestudy - Glass - Hindustan National Glass India - English
32.400 m3/h Vacuum for Hindustan Glass
download
PDF
960803
Casestudy - Glass - Hindustan National Glass India - Spanish
32.400 m3/h de Vacio por Hindustan Glass
download
PDF
959149
Casestudy - Glass - Hindustan National Glass India - Italian
32.400 m3/h di vuoto per Hindustan Glass
download
PDF
990561
Casestudy - Glass - Hindustan National Glass India - German
32.400 m3/h Vakuum für Hindustan National Glass
download
PDF
998185
Casestudy - Glass - Hindustan National Glass India - Russian
32.400 м3/ч вакуума для компании Hindustan Glass
download
PDF
960489
Casestudy - Glass - Hindustan National Glass India - French
32.400 m3/h Vide pour Hindustan Glass
download
PDF
364012
Casestudy - Glass - Eastern Europe - English
Modernizing of Eastern Europe Glass Plants
download
PDF
440488
Casestudy - Glass - Eastern Europe - Russian
Модернизация стекольных заводов в Восточной Европе
download
PDF
364311
Casestudy - Glass - Eastern Europe - Italian
Modernizzazione degli impianti per la formatura del vetro nell'Europa dell'est
download
PDF
364678
Casestudy - Glass - Eastern Europe - Spanish
Modernización de las vidrierías en Europa Oriental
download
PDF
364330
Casestudy - Glass - Eastern Europe - German
Modernisierung von Osteuropäischen Glaswerke
download
PDF
259880
Casestudy - Glass - Malaya Glass - English
UV pumps for Malaya Glass
download
PDF
341988
Casestudy - Glass - Malaya Glass - Russian
Вакуумные насосы UV для Malaya Glass
download
PDF
367396
Casestudy - Glass - Malaya Glass - German
UV Vakuumpumpen für Malaya Glas
download
PDF
304749
Casestudy - Glass - Malaya Glass - Italian
Pompe UV per Malaya Glass
download
PDF
306390
Casestudy - Glass - Malaya Glass - Spanish
Bombas UV por Malaya Glass
download
PDF
306645
Casestudy - Glass - Malaya Glass - French
Pompes UV pour Malaya Glass
download
PDF
176900
Casestudy - Glass - MEG - English
Glass manufacturing in the Middle East
download
PDF
256317
Casestudy - Glass - MEG - Russian
Стекольное производство на Ближнем Востоке
download
PDF
177910
Casestudy - Glass - MEG - German
Glas Produktion in Mittlerer Osten
download
PDF
261182
Casestudy - Glass - MEG - Italian
La produzione di vetro in Medio Oriente
download
PDF
263258
Casestudy - Glass - MEG - Spanish
La producción de vidrio en Medio Oriente
download
PDF
263161
Casestudy - Glass - MEG - French
La production de Verre au Moyen-Orient
download
PDF
947855
Casestudy - Glass - MISR - English
Vacuum for Misr Glass Manufacturing in Egypt
download
PDF
983630
Casestudy - Glass - MISR - Russian
Вакуум на предприятии Misr Glass в Египте
download
PDF
952511
Casestudy - Glass - MISR - Italian
Vuoto per Misr Glass Manufacturing in Egitto
download
PDF
953177
Casestudy - Glass - MISR - Spanish
Vacío para Misr Glass Manufacturing en Egipto
download
PDF
952614
Casestudy - Glass - MISR - French
Vide pour Misr Glass Manufacturing en Egypte
download
PDF
855689
Casestudy - Glass - Saint Gobain - English
Vacuum for IS machines in France
download
PDF
314212
Casestudy - Glass - Saint Gobain - Russian
Вакуум для IS машин во Франции
download
PDF
307024
Casestudy - Glass - Saint Gobain - Italian
Vuoto per macchine IS in Francia
download
PDF
535276
Casestudy - Glass - Saint Gobain - German
Vakuum für IS Maschinen in Frankreich
download
PDF
814898
Casestudy - Glass - Saint Gobain - French
Vide pour machines IS en France
download
PDF
862344
Casestudy - Glass - Saint Gobain - Spanish
Vacío para Máquinas IS en Francia
download
JPG
95654
Rotary Vane Vacuum Pump - UV4 H model
UV4 rotary vane vacuum pump special inox design (closed view)
download
JPG
111980
Rotary Vane Vacuum Pump - UV8 B model
UV8 rotary vane vacuum pump with booster (closed view)
download
JPG
129694
Rotary Vane Vacuum Pump - UV16 model
UV16 rotary vane vacuum pump - standard (open view)
download
JPG
91418
Rotary Vane Vacuum Pump - UV16 VS30 model
UV16 rotary vane vacuum pump with variable speed option (open view)
download
JPG
68284
Rotary Vane Vacuum Pump - UV30 VS55 model
UV30 rotary vane vacuum pump with variable speed option (open view)
download
JPG
56479
Rotary Vane Vacuum Pump - UV50 model
UV50 rotary vane vacuum pump - standard (open view)
download
PDF
481005
Casestudy - Glass - Multimaster Control - English
Innovative Pumps Control Solutions. The Multimaster Control optimizes the operation of several large vacuum pumps
download
JPG
778530
2018326111713-0788.jpg
download
PNG
7778
2019930111451-0791.png
download
PDF
240250
Vacuum System Upgrade at O-I Plant
Vetrerie Meridionali is one of the traditional Italian glassworks, it started as a private enterprise in 1962. The merger with O-I in 1998 consolidated its market position in Southern Italy, producing containers to store wine, oil, vinegar, tomato puree, fruit juice and other locally produced beverages.
download
JPG
70443
2023322093858-0127.jpg
download
JPG
70443
2023322093918-0250.jpg
download
JPG
70443
2023322094032-0845.jpg
download
JPG
62621
2023322094033-0819.jpg
download
JPG
59754
2023322094033-0255.jpg
download
---
---