Wenn es nach den Gesetzen der Aerodynamik ginge, dürfte die Hummel nicht fliegen. Da sie die Gesetze der Aerodynamik jedoch nicht kennt, fliegt sie dennoch.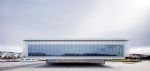 Mit dem neuen "Stopray Ultra-70 on Clearvision" hat AGC Interpane ein Produkt entwickelt, das die strahlungsphysikalischen Machbarkeiten beim Sonnenschutz nach oben verschiebt. Mit einer Selektivität von 2,12 übertrifft es herkömmliche Produkte und verfügt zudem über eine extrem niedrige äußere und innere Reflexion.
Das Produkt ist besonders farbneutral (Ra,D = 95), lässt ein Maximum an Tageslicht in den Raum (TL = 70 Prozent) und senkt mit einem g-Wert von nur 33 Prozent sehr effektiv die Klimalast hinter Glasfassaden. Die Lichtreflexion nach innen beträgt niedrige 11 Prozent, nach außen reflektiert es sogar nur 10 Prozent des Lichts. Die genannten Werte gelten im Zweifach-Aufbau, das Produkt ist aber auch als 3fach-Isolierglas verfügbar.
Auch bei der Weiterverarbeitung ist das neue Sonnenschutzglas sehr flexibel: Es ist verfügbar in Standard-Bandmaßen, aber auch in Festmaßen bis zu 3,21 x 18 Meter (auf Anfrage) – also ideal für das Verlangen der gehobenen Architektur nach "oversized" Glas geeignet. AGC Interpane bietet darüber hinaus weitere Veredelungsschritte an, zum Beispiel die Kombination mit keramischem Siebdruck oder ipachrome-Teilbeschichtungen unter der Schicht.
Konsequente "Cradle to Cradle"-Zertifizierung
Alle bestehenden Sonnenschutzprodukte aus der ipasol- und Stopray-Familie sind mit dem Nachhaltigkeitszertifikat "Cradle to Cradle" ausgezeichnet und so wird die AGC Gruppe auch das neue Stopray Ultra-70 on Clearvision zertifizieren. Mit "Cradle to Cradle" wird die Nachhaltigkeit eines Produkts über dessen gesamten Lebenszyklus bewertet. Für die Zertifizierung muss das Produkt den strengen Anforderungen in fünf Kategorien im Bereich Gesundheit und Umweltschutz genügen: Materialgesundheit, Kreislauffähigkeit, erneuerbare Energien, Wasserverbrauch und soziale Verantwortung. Die AGC Gruppe ist der einzige Glashersteller, der für sein großes Portfolio an Glasprodukten nach "Cradle to Cradle" zertifiziert wurde und bietet damit das weltweit umfassendste Portfolio an Glasprodukten, die auf den Stufen Bronze, Silber und Gold ausgezeichnet sind.
Die Gesamtbewertung für die Isolierglasprodukte, unter die auch Stopray und ipasol fallen, erreichte das Bronzezertifikat, in den Unterkategorien "Erneuerbare Energie" und "Wasserverbrauch" wurden die Produkte mit Silber und in puncto "Kreislauffähigkeit" und "Soziale Verantwortung" sogar mit Gold bewertet. Im Gegensatz zu anderen Glasprodukten sind bei der Zertifizierung eines Isolierglases nach "Cradle to Cradle" wesentlich mehr Beteiligte einzubinden, da nicht nur das Glas zertifiziert wird. Auch alle weiteren Komponenten, die für den Aufbau einer Doppel- oder Dreifachverglasung erforderlich sind, also beispielsweise Zwischenschichten, Kleb- und Dichtstoffe usw., müssen wesentliche Kriterien erfüllen. Infolgedessen umfasst der komplexe Zertifizierungsprozess mehrere Dutzend Zulieferer und alle an der Herstellung beteiligten Werke. Die Zertifizierung unterstreicht das entschlossene Engagement der Gruppe für Umwelt und Nachhaltigkeit.