MSK Verpackungs-Systeme GmbH, MSK Covertech Group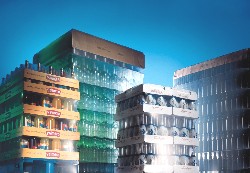 MSK Company profile (Glass industry)

MSK has become one of the leading manufacturers of net worked packaging machinery on the cold end. Specialised in the engineering, manufacturing and distribution of semi and fully automatic pallet shrink wrapping systems MSK also manufactures semi and fully automatic palletising systems as well as conveying and individual plant handling solutions for the glass container industry.

In addition to its palletising and shrink wrapping systems MSK developed a machine supervisory system called EMSY (Electronic Management System). In the glass industry it can monitor the cold end entirely, from palletising to the pallet accumulation and pick up area.

With subsidiaries and representations all over the world MSK is located close to its customers. 24 hours emergency and online modem service provides fast and economic help.
---
Address
Company
MSK Verpackungs-Systeme GmbH
MSK Covertech Group
Address
Benzstraße
47533 Kleve
Country
Germany
Phone
0049 2821 506 0
Fax
0049 2821 17866
Email
Email Contact
Internet
www.mskcovertech.com
Employees
500
Year founded
1975
---
Contact Info
| | |
| --- | --- |
| Name | Mr. Michael Bouwmann |
| Position | Key Account Manager |
| Phone | +49 2821 506 0 |
| Email | Email Contact |
| | |
| --- | --- |
| Name | Mr. Dipl.-Ing. Armin Thissen |
| Position | Key Account Manager |
| Phone | +49 2821 506 0 |
| Email | Email Contact |
| | |
| --- | --- |
| Name | Department HR |
| Position | Human Resources |
| Phone | 0049 2821 506 0 |
| Email | Email Contact |
---
---
Products
Supplier of Conveying, Transport, Packing and Warehouse Technology, Palletisers, Packing Lines, Boxes, Shrinking Machines, Spare Parts
Palletisers
MSK Quintech
MSK Triotech
MSK Duotech
MSK Semitech
Shrink Wrapping
MSK Multitech/Recotech
MSK Paratech/Recotech
Conveying systems
Shuttle Cars
Software
---
---
---
---