Höganäs has launched a new range of Surfit® powder grades to address the requirements of cost effectiveness within the hollow glass industry. The new products have an optimised chemical composition to cost efficiently achieve overlay welding of mould parts for glass production.
Benefits such as excellent machinability and heat transfer have made cast iron a commonly used material for moulds in the hollow glass industry. By deposition of a coating layer to the mould critical areas, using techniques such as Plasma Transferred Arc (PTA) welding, the service life of the moulds can be significantly prolonged by increasing resistance to the demanding molten glass environment.
Coating of cast iron is a challenging process, in particular coating of lamellar cast iron which is by far the most common mould material as it conforms to most of the technical and economical demands for substrate material in glass moulds. The low ductility and elongation of lamellar cast iron as well as the formation of hard and brittle phases at the interface with the coating, makes this material sensitive to crack formation during the hard facing process. For this reason, process parameters and coating material must be carefully selected and all application requirements considered.
To date, material choice for overlay welding of cast iron mould parts has been limited to self-fluxing powder grades with more than 85% nickel. This relatively high amount of nickel is required to avoid crack formation in the lamellar cast iron substrate. The high fluctuation in nickel raw material costs over recent years is an uncertainty for manufacturers and complicates the pricing process. Höganäs, a world leading manufacturer of metal powders, now provides a cost effective alternative for medium hardness 30-35 HRC applications. These cost efficient nickel-based powder grades are ideal for overlay welding of cast iron parts, for instance guide rings and bottom plates that require medium hardness and wear resistance.
Meeting demands on coating properties
The new range of Surfit powders consists of nickel-based grades which are pre-alloyed with an optimum amount of chromium, boron and silicon to achieve coatings with medium hardness and wear resistance as well as good weldability and machinability. The powder particles are spherical in form which results in good flow during deposition. The production process ensures controlled oxygen content to reduce the risk of pore formation during welding.
These Surfit powders are available in a range of particle size intervals. The particle size distribution is dictated by the deposition technology and equipment.
Typical properties

Sieve range (µm)

Surfit 1330-CE
Surfit 1530-CE
Surfit 1730-CE


45-125
53-150
63-212

Hall flow range (sec./50 g)

13-19

Apparent density range (g/cm3)

4.0-4.7

Melting temperature range (°C)

1140-1340

Hardness range on cast iron substrate

30-35 HRC at a dilution of <15%

Coating hardness is directly affected by dilution, substrate material, component geometry and cooling rate. When deposited on a lamellar cast iron substrate using PTA, the typical hardness for these Surfit materials is 33 HRC. Changing substrate material to a low alloyed steel, when all other factors remain unchanged, results in a lower coating hardness. This difference is a result of high carbon content in the cast iron substrate which interacts with the coating material.
In hollow glass manufacturing, the coating material momentarily gets in contact with molten glass. This puts demands on the coating hardness at elevated temperatures. This Surfit powder range exhibits good hardness retention similar to currently used nickel-based self-fluxing grades with hardness in the range of 30-35HRC.

Figure 1 Hot hardness HV5 measured after PTA deposition on a cast iron substrate.
* HRC values are only indicative as they have been estimated from Vickers hardness.
These Surfit powders provide sound deposits on lamellar cast iron. Formation of cracks in the deposit and substrate material is sufficiently suppressed thanks to the powders' optimised chemistry. Figure 2 shows the cross section of Surfit 1530-CE welded on lamellar cast iron substrate using the PTA deposition technique. It can be observed that, as a result of its chemistry, Surfit 1530-CE is less prone to pore formation and precipitation of easily removable graphite particles during overlay welding.
The microstructure of the coating consists of a ductile austenitic matrix reinforced by the precipitation of fine eutectic structure with chromium rich borides and carbides. The hardness and wear properties of these Surfit grades come from these precipitates. The size and the amount of hard phases depend on the substrate material, cooling rate as well as dilution. Figure 3 shows the microstructure constituents present in the coating after PTA welding on cast iron.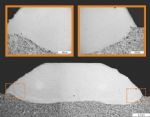 Figure 2 Cross section of Surfit 1530-CE PTA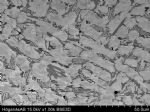 Figure 3 Coating microstructure after PTA welding welded on lamellar cast iron substrate on lamellar cast iron substrate



Achieve more with less
Surfit® 1330-CE, Surfit® 1530-CE and Surfit® 1730-CE are cost efficient nickel-based powder grades for overlay welding of cast iron parts that require medium hardness and wear resistance such as guide rings and bottom plates. Thanks to their optimised nickel content, they help ensure a more stable material cost and provide a great opportunity to achieve more with less.