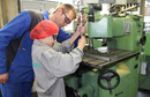 Gerresheimer's production facilities in Bünde, Essen, Lohr, Pfreimd and Tettau are taking part in this year's Girls' Day. They're looking forward to welcoming all the schoolgirls who are interested in technical apprenticeships. Girls´ Day on March 27, 2014 is the world's biggest career guidance project for schoolgirls aged 10 and above. More than 1.3 million girls have participated in it since it was launched in 2001. In 2013 around 109,000 girls took advantage of the opportunity to find out about technical and science apprenticeships.
"Girls and young women who want to do a technical apprenticeship are very welcome at the Gerresheimer plants. We've always been very happy with our female apprentices and we hope that the number of women choosing to work in technical occupations will continue to increase," said Thomas Perlitz, Director Global Human Resources at Gerresheimer.
Gerresheimer has apprenticeship programs for more than 15 technical occupations at its German production facilities, including electronics technician, process engineer and toolmaker. An apprenticeship combined with a degree course leading to a Bachelor of Engineering in mechanical engineering, electrical engineering or industrial engineering is the perfect way to gain both a theoretical grounding and practical experience.
Gerresheimer provides comprehensive training programs and offers full-time positions to many of its apprentices when they complete their apprenticeship program. It is committed to preparing these young people for their future jobs with a wide range of technical and commercial apprenticeships, plus sandwich degree courses in plastics engineering and mechatronics that combine theory and practice. Many of the Gerresheimer apprentices achieve excellent examination results, and they are often honored by the Chamber of Industry and Commerce as the best in their occupation category.
The trainers, apprentices and staff did a fantastic job presenting "their plant" and providing insights into technical occupations on Girls' Day.