Gerresheimer belongs to the leading worldwide suppliers of glass for cosmetics. The company offers its visitors on May 10 and 11 at Luxepack 2017 in New York and at Beautyworld Middle East on May 14 up to 17 in Dubai the latest highlights out of enchanting new glass containers.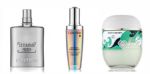 Gerresheimer scores points above all at Luxepack New York and Beautyworld Middle East in Dubai with attractive packaging. These start for example with the bottle for L'Homme Cologne Cedrat for L'Occitane, Lancôme Advanced Genéfique and Biotherm Edition Caritative.
Gerresheimer cultivates the attractive business of cosmetics glass as a particular speciality worldwide. The Group, which otherwise focuses on pharmaceutics and life sciences has two glass plants which have outstanding competence and perfect technologies to supply the product world of fragrance and personal care with what it actually sells in the end effect: beauty. "High-quality packaging tailored precisely for the target group is a question of credibility in these markets particularly," says Nicola Balena, General Manager at Momignies for Gerresheimer Primary Packaging Glass Cosmetics. "Optimum protection of volatile and delicate contents is an additional factor." From both these viewpoints, he stresses, glass is unbeatable.
Gerresheimer booth locations: Luxepack, New York (USA), May 10 and 11, Pier 92, Booth D304. Beautyworld Middle East, Dubai (UAE), May 14 up to 17, International Convention and Exhibition Centre, Booth 3 B25.