RegaLead, the market leader in decorative products for the flat glass industry, has returned from GlassTech Asia - the International trade show that was this year hosted in Jakarta that attracted over 5000 professionals from across 30 countries – delighted with its success at the event.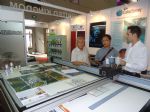 Guy Hubble, Joint Managing Director of RegaLead comments: "As a global supplier, it's important that we commit to regional glass shows across the territories in which we operate. This was our third time at GlassTech Asia, and once again, we got some really great leads and off the stand sales. Visitors were especially interested in our CadRam technology, one of the lowest cost methods of manufacturing decorative glass. An Indonesian company was so impressed with the ease of manufacture and wide colour palette it offers, they bought a CadRam resin machine there and then. The other draw to our stand was Colorspray, the uniquely formulated resin based paint system that is ideal for the backpainting of glass for a host of applications with its range of 19 colours which can create thousands of finishes.
"At RegaLead we will continue to commit to supporting trade exhibitions as they provide us with the opportunity to demonstrate our products in front of potential customers which we believe is one of the most effective ways to promote them. The next major regional show we will be attending is Glass South America in Brazil from 17-19th May 2012."
For more information on decorative products for glass, windows and doors from RegaLead visit
www.regalead.co.uk
or call 0161 946 1164.