Maschinenfabrik Gustav Eirich GmbH, & Co KG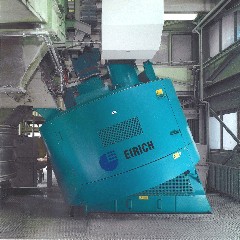 EIRICH designs, manufactures and supplies batch and continuous machinery and systems for the processing of raw materials, compounds, waste and residues.

EIRICH intensive mixers are a well known entity in the international glass industry. This is particularly true wherever value is placed on high mixing precision and high operational reliability. EIRICH machines are in action on all continents, processing glass batches of the most diverse types. High mixing precision, without the formation of aggregates, is guaranteed even for the finest batches.

With its affiliated companies in Europe, America, Asia and Africa, Maschinenfabrik Eirich guarantees a synergistic potential that always represents the current state of the art worldwide. It results in high-grade technological solutions that enable final products of optimum quality. No matter where you are situated, a global network of consulting and service centres puts all the company's products and services within easy reaching distance.
---
Address
Company
Maschinenfabrik Gustav Eirich GmbH
& Co KG
Address
Walldürner Str. 50
74736 Hardheim
Country
Germany
Phone
0049 6283 51-0
Fax
0049 6283 51-325
Email
Email Contact
Internet
www.eirich.de
Employees
735
Year founded
1863
Associations
VDMA
---
Contact Info
| | |
| --- | --- |
| Name | Mr. Dipl.-Ing. Harald Eirich |
| Position | Technischer Vertrieb / Area Sales Manager |
| Phone | 0049 6283 51 333 |
| Fax | 0049 6283 51 89333 |
| Email | Email Contact |
---
---
Products
Supplier of Mixing Equipment
Cooling mixers
Drying mixers
Heatable mixers
Intensive mixers
Kneaders
Mixing reactors
Mix-pelletizers
Vacuum mixers
---
News
30.10.2019
Batch, Furnace, Melting, Coating
---
30.10.2019
Batch, Furnace, Melting, Coating
---
---
News
Filetype
Filesize
PDF
7657027
SINGLE STAGE CONTAINER GLASS FORMING
RESEARCH PROJECT IN COOPERATION WITH VDMA
download
PDF
315434
Fachausschuss II: Glasschmelztechnologie
Fachausschluss II: Glasschmelztechnologie
download
JPG
30800
Mischer / Mixer
login
JPG
24336
Mischer / Mixer
Detail
login
JPG
16452
Mischer / Mixer
Bildschirmübersicht / Display
login
PDF
2971988
Artikel / Report
Philips values performance, reliability of intensive batch mixers
login
PDF
1568299
Artikel / Report Glass International
Focus on mixer performance and glass batch quality
login
PDF
952939
Preparation of Glass Batches
Eirich Intensive mixers produce batches of greater homogeneity in shorter mixing cycles
login
PDF
163150
Aufbereitung von Glasgemenge
Eirich-Intensivmischer erzeugen in kürzerer Zeit homogenere Gemenge
login
JPG
539743
Artikel / Report Glass International 09/04
The Glass Industry heads for Germany
login
PDF
622882
A recipe for success (Glass International 12/05)
Today's glass production requires state-of-the-art mixers, say Dr Peter Miczajka and Dipl-Ing Harald Eirich.
download
---
---