Gold colour makes glass, china and perfume bottles look precious. For high-quality gold decors, the gold colour needs to be cured reliably and with a brilliant shine. This can be achieved with UV or infrared radiation, depending on the colour. At the glasstec trade fair in Düsseldorf, Heraeus exhibits an innovative low-temperature paint which can be cured optimally and time savingly using the novel MAX infrared oven and a new colour series which can be cured efficiently with UV LEDs.
MAX infrared oven for Low Temperature Gold
Heraeus Low Temperature Gold™ is a new noble metal preparation provided by the Precious Colours division of Heraeus. It will be presented for the first time at the glasstec trade fair in October 2014 in Düsseldorf. The new gold colour can be cured at low temperatures of between 200°C and 250°C.
Tests with the Heraeus Noblelight MAX infrared oven carried out at the Heraeus Applications Center showed that processing times of less than one minute in the MAX oven were already sufficient to meet the required specifications. The reason for this is that the MAX oven process chamber is lined with QRC® quartz material. This ensures a diffuse and hence very homogeneous distribution of the radiation from all directions. In this way, even components with walls thicker than 5 mm can be heated quickly and homogeneously.
The new Heraeus MAX infrared ovens combine infrared radiation with convection and optimal reflection. This makes them superior to conventional industrial ovens. They are precisely adjusted to the heating process which makes it more stable. This helps increase capacity and improve quality. The more efficient ovens save space, time and energy.
The advantage of infrared emitters is that they apply heat in a directed manner. Heat is applied only where it is needed and only as long as required for the process.
The low curing temperatures for the first time enable the combination of a noble metal preparation with organic colours. As the Heraeus Low Temperature Gold™ is a preparation on an aqueous basis without the use of environmentally hazardous organic solvents, environmentally harmful emissions are not produced during processing. Moreover, the low curing temperatures enable substantial energy savings and considerably shorter through-put times in the curing ovens.
High UV intensities for brilliant surfaces
To ensure that colours applied to glass surfaces look nice as long as possible, they need to adhere well on the surface and, above all, must be well cured. Only this will enable them to withstand cleaning agents and be scratch-resistant. If the colours and the UV curing process are optimally adjusted to each other, this substantially prolongs the life of a brilliant surface.
In a UV curing process, polymerisation, photoinitiators are activated by intensive UV light to cross-link them within fractions of a second. With that, paints or colours are cured quickly, so the surface is immediately dry and resistant to abrasion and can continue to the next process.
Depending on the requirements, the UV curing process is optimised by the use of different UV light sources and taking account of wavelength and UV intensity. High UV intensities are necessary to cure the colours with a reproducible quality.
UV LEDs for energy-efficient curing processes
The new Heraeus LED 2020 colour series comprises UV-curing, shiny two-component screen-printing inks suitable for multi-colour inline printing. They have been developed especially for being cured by UV LED light sources.
UV LEDs have a monochromatic light spectrum and are used in particular in intermediate curing steps (pinning) at a wavelength of 395 nm. Due to the good and fast full curing using the Heraeus UV LED technology, printing speeds of up to 100 cycles per minute can be achieved. This makes subsequent time, cost and energy consuming tempering in the oven unnecessary. UV LEDs are the technology of the future that optimises the energy required in the process. The LEDs do not generate ozone, which makes them not only environmentally friendly but also cost-efficient, as the need for additional exhaust systems is eliminated. Their long service life minimises expenditure for maintenance and servicing.UV LED systems can relatively easily be integrated into existing processes and their low heat generation makes them suitable also for heat-sensitive materials.
For the final curing of the colours, Heraeus offers intensive UVC medium-pressure lamp systems as well as high-output UV LED systems. Both are able to fully cure several print layers. The broadband spectrum of the medium-pressure systems, but above all their intensive radiation in the UVC range and the heat created, ensure a good surface finish. They make the surface scratch-resistant and give the colour its brilliance. Reliable and high UV intensities are even substantially improved by an integrated reflector. This makes the curing process faster, without any reduction of quality.
Only the targeted use of the UV radiation with corresponding colour formulations can optimise processes and make the use of energy more efficient.
Heraeus Noblelight offers the whole range from UV to IR technology, conducts experiments with the materials and gives advice to find the optimal lamp solution for the specific process.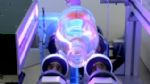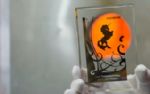 Heraeus Noblelight develops special UV and IR curing solutions tailored to the production process to optimise the use of energy, reduce costs and save time.