In New York, "der Stadt, die niemals schläft" sind die Scheinwerfer am 13. und 14. September auf die PCD, die Fachmesse für "Packaging of Perfume Cosmetics and Design" gerichtet. Mit exklusiven Glasobjekten rund um Düfte und Kosmetik zeigt Gerresheimer eine sehr attraktive Seite der Verpackungswelt am Stand E24.
"Wir sind das erste Mal in New York auf der PCD und freuen uns darauf dem amerikanischen Fachpublikum unsere Ideen aus Glas zu präsentieren," sagt Nicola Balena, General Manager bei Gerresheimer in Momiginies/Belgien.



Die Flakons für Star Wars sind vom Design des Lichtschwertes inspiriert.
Gerresheimer gehört zu den bekannten Größen in der schillernden Szene der Kosmetikverpackung. Für Dekorglas verfügt die Gruppe über alle Raffinessen der Formung, Färbung und Veredelung. Mit diesem Repertoire bedient sie alle relevanten Marktsegmente der Duft- und Kosmetikwelt mit Flakons, Flaschen und Tiegeln. Im internationalen Ranking ist Gerresheimer einer der weltweit führenden Spezialisten sowohl im Prestige- als auch im Masstigemarkt.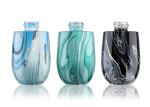 Gerresheimer Flakons mit Marble Decoration
Auf der PCD präsentieren die Gerresheimer Experten eine exklusive Auswahl an Flakons, Tiegeln und anderen Glasbehältern, die sie für ihre Kunden in der Kosmetikwelt entwickelt haben.

Über Gerresheimer
Gerresheimer ist ein weltweit führender Partner der Pharma- und Healthcare-Industrie. Mit Spezialprodukten aus Glas und Kunststoff trägt das Unternehmen zu Gesundheit und Wohlbefinden bei. Gerresheimer ist weltweit vertreten und produziert mit seinen 11.000 Mitarbeitern dort, wo seine Kunden und Märkte sind. Mit über 40 Werken in Europa, Nord- und Süd-Amerika und Asien erwirtschaftet Gerresheimer einen Umsatz von rund 1,4 Milliarden Euro. Das breite Angebotsspektrum umfasst pharmazeutische Verpackungen sowie Produkte zur einfachen und sicheren Verabreichung von Medikamenten: Insulin-Pens, Inhalatoren, vorfüllbare Spritzen, Injektionsfläschchen, Ampullen, Flaschen und Behältnisse für flüssige und feste Medikamente mit Verschluss- und Sicherheitssystemen sowie Verpackungen für die Kosmetikindustrie.