2017 is off to a great start with a boom in activity and creativity in the glass industry. To this end, we are appealing to you, our long-term customers and partners, to take part in this shift and help create a real win-win situation for all. Throughout the year, we will be working to deepen our relationship with you and to being more responsive to your needs and challenges.
Today, we are taking the first step by inviting you to leverage our marketing channels. Send us photos and short descriptions of unique and exceptional projects that you created using our glass, and we will promote them with credit to you on our social media networks (please see below mail for connection).
Follow our activity on Facebook, where you can access professional content, get inspired and keep up with the latest trends.

The Transparent House shows us the way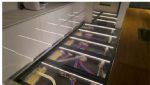 The transparent house, created by the Israeli Building Center, is a unique project where everything in the house — including all of the building processes and systems — is (you guessed it…) transparent! But how was it done? Using glass of course.
Phoenicia is proud to have taken part in this amazing venture by supplying Laminated Glass – three layers of 10mm laminated low iron (True Color™) glass, which helped turn the vision into a reality and make sure that all of the underfloor systems are in fact visible through the transparent and completely crystal-clear glass floors.
Promoting and focusing on art "Light-Space Fluctuations"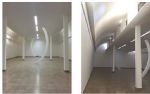 The Light-Space Fluctuations exhibition, which is showing at the Art Center in Ein Harod (21/1-20/4/2017), focuses on light and all its fluctuations and diverse manifestations. Created by the artist David Behar-Perahia, the exhibition takes visitors through a powerful experience created by the light flowing through the ceilings, vaults and unique geometry of the museum. With no pictures on the walls and in a space that is exposed and bare of all objects, Behar-Perahia uses technology to control the natural light mechanisms and inject precise doses of light. In this manner, he orchestrates an exceptional light show; and creates round columns that match the four existing columns in the museum.
The powerful experience is achieved using Phoenicia's low iron glass solutions — True Color™ — which offer exceptional clarity and neutral tone. The low iron content and full clarity of these solutions combine advanced technical benefits with aesthetics and preserve the natural quality of the light without distorting it. Phoenicia's low iron glass (True Color™) is based on unique technology developed in-house, making Phoenicia one of a select 40 companies worldwide to provide similar solutions.