Four more speakers have confirmed their participation at the forthcoming container glass conference. Experts from Italy, Germany and Brazil will join leading technology suppliers at the Glassman South America Conference in giving papers at the event.
The four new speakers are from Italy's BDF and Area Impianti, Germany's Heye International, and from the Brazilian Glass Commission. It brings the total number of speakers at the free-to-attend conference to 14.
Technical papers at the two-day seminar will be given by Electroglass, RHI, P-D Refractories, Jenike and Johanson, Pneumofore, Poco Graphite, Ametek Land, Glass Service and Fusiontec (Revimac).

The conference will run parallel to the Glassman South America hollow and container glass exhibition.
MORE THAN 80 COMPANIES HAVE SIGNED UP TO EXHIBIT THIS MARCH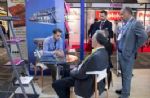 More than 80 international suppliers have secured their exhibition space at the event, and the companies cover all aspects of the glassmaking process.
Exhibitors are from all around the world and include MGFS Glass Factory Services, Vidromecanica, Icebel, Heye International, Tiama, Iris Inspection Machines, AGC Ceramics, Henry F. Teichmann, Pennekamp, Teco Group, BDF Industries, AGR International, Heat Up Latin America and Emmeti.
THERE IS ONLY ONE STAND REMAINING

There is only one stand remaining at Glassman South America. If you are interested in exhibiting please contact Ken Clark now.
To secure your participation at Glassman South America, please contact the organising team:
Ken Clark,
Sales Director
T: +44 (0)1737 855 117
E: kenclark@quartzltd.com
Greg Morris,
Editor, Glass International
T: +44 (0)1737 855 132
E: gregmorris@quartzltd.com
Sally Love,
Assistant Editor, Glass International
T: +44 (0)1737 855 154
E: sallylove@quartzltd.com
Esme Horn,
Coordinator,
T: +44 (0)1737 855 136
E: esmehorn@quartzltd.com