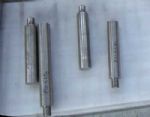 We only use the purest molybdenum powder to manufacture the molybdenum electrodes. This ensures the molybdenum electrodes have the characteristics of high melting point, high temperature strength, consistent hardness, good thermal shock resistance, electrical conductivity, thermal conductivity and good corrosion resistance.
The molybdenum glass melting electodes are approved for use by the largest consumers in the US, Europe, and Asia.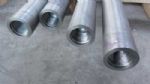 Molybdenum glass melting electrodes are used in glass melting furnaces producing high quality glass containers and glass fiber. Our electrodes are energy efficient, have a long service life, and contribute to a more environmentally friendly melting of the glass.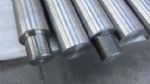 Molybdenum electrodes can be used in a variety of glass furnaces. The maximum usage temperature is 1500. We can provide full application of technical services of design, machining and installation and to ensure a smooth operation for our customers.
Various molybdenum glass melting electrodes could be customized.