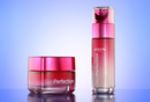 Gerresheimer is exhibiting at Make Up in Paris at the Carrousel du Louvre for the first time this year, where it will be presenting its current cosmetic packaging designs at booth 409 on June 12 and 13.
"Customers who are looking for new cosmetic designs and want to set trends can browse our several thousand design concepts for inspiration", said Nicola Balena, Sales Director Moulded Glass at Gerresheimer.
A good glass packaging for a cosmetic product unites originality, elegance and spirit of the time.
The Gerresheimer Group's constant innovations in the packaging market have made it an important partner for the perfume, the cosmetics and the personal care industry worldwide. The company has a strong position in the discerning prestige and masstige segments.
Extravagantly styled flacons, jars and bottles, plus a comprehensive service, have earned the Gerresheimer Group its excellent reputation in the global fragrance, cosmetics and personal care market.
At Luxe Pack New York the Gerresheimer experts will present an exclusive assortment of bottles, jars and other glass containers that it has developed for customers in the cosmetics world.