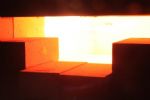 The Gerresheimer plant in Tettau (Germany) manufactures perfume flacons, crème pots, make-up bottles and other products for the cosmetics industry. The recently modernized glass melting furnace has a melting capacity of around 90 tons per day and a 55 square meter melting zone. This, plus an additional production line, has increased the plant's production capacity by around 50 million units to 650 units per year. It took 150 specialist personnel 46 days to build the new furnace. The invest-ment has created around 30 new jobs.
"Our customers not only expect us to produce glass in first-rate quality, but also to be highly innovative and deliver excellent results. The new oxygen melting furnace is a milestone for us. Not only does it enable us to increase our production capacity, but also to set new standards of quality, productivity and environmental friendliness," said Bernd Hoerauf, CEO of Gerresheimer Tettau GmbH.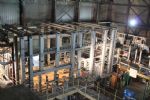 The new glass melting tank is an oxygen furnace that operates with gas, electricity and oxygen. Each one of its ten burners can be individually adjusted. As a result of this advanced technology, Gerresheimer can even better meet the necessary high quality for the cosmetics market. An additional production line was also installed at the plant, bringing the current total to five. In the remodeling process, the so-called "cold end", i.e. the testing and packaging equipment, was completely overhauled and adapted.
The new oxygen furnace satisfies all statutory requirements of exhaust gases and air purity, and it has a completely sealed melting basin to improve energy efficiency. In the process of capacity extension, the plant's own oxygen apparatus was correspondingly extended and adapted.