The new and innovative drug delivery system manufactured by Taisei Kako Co. Ltd. is based on cyclic olefins (COP). This range of syringes completes the proven Gerresheimer portfolio of high quality primary packaging products for the pharma market. Gerresheimer is responsible for technical customer support and sales in Europe and America of the ClearJect™ brand syringe systems.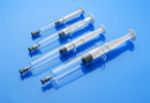 The ClearJect™ syringes are manufactured in an injection molding process according to cGMP and also satisfy Japanese quality requirements, particularly those relating to cosmetic defects. They are available in bulk or ready-to-use format. Customerspecific formats can also be manufactured if required.
COP is highly shock-resistant and breakproof. Its impact strength is twice as high as that of the standard syringe material of glass. COP is also extremely transparent, with light permeability of over 90 percent plus very low water vapor and oxygen permeability. This heavy metal-free material is therefore perfect as a primary packaging for sensitive medications for oncology, ophthalmology and other fields of medicine.
When the ClearJect™ syringes have been manufactured in a fully automated and contactless process, they are gamma sterilized. Clearject syringes, like glass syringes, are packaged and sold as ready-to-fill systems. The rubber components of the Clearject system (plunger head and tip cap) are manufactured in Japanese quality and conform to current requirements of modern rubber types. The tip cap and plunger head are made of the same latex-free modern chlorobutyl rubber. The plunger heads in polystyrene or polyethylene can also be subjected to a final 100 percent automated visual final inspection prior to delivery if required.