At the beginning of December 2010, the Bystronic glass Technology Center Bystronic Lenhardt GmbH commissioned the first TPS® insulating glass line in China. The privately- run Dalian Huaying Glassware Products Co., Ltd. is proud to be the first Chinese producer of insulating glass units using TPS® thermoplastic spacer material. "TPS ® is the best because it is the most advanced technology in the field of insulating glass production on the planet", says Dalian Glass President Zhao Yong in justifying his purchase and expressing his complete satisfaction with his decision.

The delivery and installation of the line took place in November and the commissioning of the TPS® applicator as well as the on-site training of the staff members took place at the beginning of December. The company based in the north-east of China became aware of the TPS® as a spacer approximately two years previously – during the China Glass 2009 Exhibition in Shanghai. Bystronic glass presented this application technology for the very first time in China at this exhibition. Zhao Yong was surprised to learn that TPS® already has been used in insulating glass production as a spacer for 15 years. During visits to reference units in Europe and to the material manufacturer Kömmerling in Pirmasens (Germany), he saw for himself that the technology is fully developed and meets his requirements.

Future-oriented production technology for warm edge insulating glass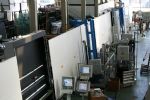 With TPS®, it is not only the production of insulating glass itself that is considerably automated and streamlined, the product characteristics of the insulating glass units are also significantly improved by the excellently heat-insulated, elastic edge bond. With the tps´line, Bystronic glass offers individual production solutions for all types of orders with unique versatility. This permits the economical and streamlined production of rectangular and shaped formats with the utmost of flexibility: on the tps'line, up to 4-sided stepped insulating glass units, double and triple units with dimensions of up to 3210 x 6000 mm, with varying spacer widths, with or without gas filling and with optional automatic or manual application of muntin bars which can be manufactured during a continuous production process. Separate production processes for the bending, sawing, connecting, filling and butyling of spacers are not necessary.

The highest quality expectations

TPS® is ideal for Zhao Yong, the President of Dalian Glass as he places the same high demands upon the machines, their efficiency and their detail-oriented design as he does upon his end products: "Amongst other items, we process coated glass that is extremely sensitive and from this, we produce insulating glass units of the highest quality. For this reason, it is not only logical that we want to but that we must work using the most modern technologies and the best machines", explains Zhao Yong, who appreciates German quality and its associated precision. This is not only seen in the production hall, it can also be seen in his office: In the background, you can hear German classical music being played on a stereo manufactured by a well-known German brand.

Automated system solution from Bystronic glass

Zhao Yong purchased his first German insulating glass line as far back as 2009: Prior to this, an industry insider made him aware of Bystronic glass at a Chinese Glass Industry meeting. Until this point, Dalian Glass primarily produced their insulating glass units through manual labour. In order to increase quality and to equip themselves for the future, the decision was made to invest in an automated system solution for insulating glass production – with an air cushion conveyor, the first'arris arrissing machine and the first tandem insulating glass press on the Chinese market. Thanks to separate press plates, Dalian Glass can either assemble and press one large insulating glass unit or two smaller units in the same amount of time using this machine. This allows a far greater amount of high quality insulating glass units to be produced compared to a machine with only one press plate. Therefore, the new TPS® insulating glass line also contains a tandem press as well as the first visionscanner in China for the automatic, visual in-line inspection of glass plates.
Convincing Chinese customers of TPS®

Zhao Yong is now setting about making his customers aware of TPS® insulating glass units and convincing them of the advantages. To date, Dalian Glass has primarily concentrated upon the production of glass units for refrigerators, for example for their customer Coca Cola. The company has identified a further, growing sales market in the field of public transport and the construction sector.
The 270 staff members produce approximately 500,000 square metres of insulating glass per year – of which 75% are triple units, primarily in rectangular formats. "With the new tps´line, I am expecing at least a two-fold increase in our production output, possibly even a three-fold increase", predicts Zhao Yong. With these prospects, all the signs point to expansion due to the fact that the space for production and storage is already insufficient in the current hall. For this reason, Dalian Glass has located a new hall close to the current one, which offers four times the current space. There is one matter upon which Zhao Yong is already sure about: "We will also equip our new hall with the best machine technology available."