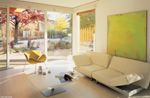 Now fully revamped and featuring new additions, iplus is a complete and diverse range of low-emissivity solutions designed to meet all of the comfort requirements of the residential market. It will be available as of mid-October.
The residential sector is placing increasingly stringent demands on the performance it expects from glazing. Private individuals want more comfortable living spaces and lower energy bills. To meet these growing expectations, AGC Glass Europe has leveraged new technological advances in coated glass so it can supply the residential market with more efficient, more aesthetically pleasing and stronger products that are also easier for glass processors to handle. iplus is the name of this comprehensive range designed for use in double and triple glazing applications.
Thermal insulation first and foremost!

New products include iplus Advanced 1.0 and iplus Advanced 1.0T*, offering advanced protection from the cold (Ug of 1.0 W/(m2K)). Despite their high level of thermal insulation, these two products also offer a high solar factor and light transmission, and thus exceptional interior comfort. iplus Advanced 1.0T is the first toughenable coating capable of delivering superb light performance (light transmission: 80%) and energy performance (solar factor: 60%), and an insulation level of 1.0 W/(m2K).
iplus Top 1.1 and iplus Top 1.1T*, both of which are also the result of new developments, allow a generous quantity of light and solar energy into the home while ensuring a good level of thermal insulation. They have a Ug of 1.1 W/(m2K).
iplus EnergyNand iplus EnergyNT* are recommended for broad bay windows and large south-facing windows where solar protection is needed in order to avoid overheating in summer. They control excessive solar heat (solar factors of 41% and 42%) while delivering good thermal insulation in winter. They have a Ug of 1.0 W/(m2K).
What about passive homes?
iplus LS and iplus LST* are products whose coatings have been specially designed for use in triple glazing. Benefits: maximised solar energy gains (solar factor: 73%) combined with superb thermal insulation (Ug: 0.7 W/(m2K)). They are the ideal solution for structures requiring an extremely low energy consumption level, such as passive homes and low- or zero-energy projects.
Anti-condensation properties for a perfect view
Excellent thermal insulation can result in the formation of condensation on the external pane, making it hard to see through the glass. Back in 2012 AGC developed its Anti-Fog range of products featuring anti-condensation properties. These products and iplus AF, a glass with a pyrolytic coating that prevents the formation of condensation, were pioneers in anti-fog technology. iplus AF Top and iplus AF EnergyN feature an innovative double coating (pyrolytic/magnetron) that can limit or even prevent the onset of condensation while providing additional thermal insulation (iplus AF Top) and solar control (iplus AF EnergyN) performance.
All iplus magnetron coated products are Cradle to Cradle CertifiedCM Silver. When used in triple glazing assemblies, they enable compliance with the criteria of the PassivHaus label.
Also available in Thermobel, the benchmark in AGC's insulating glass products
These coated glass products are also incorporated in the double and triple insulating glazing products assembled by the AGC processing network under the Thermobel brand, a byword for quality and durability in insulating glazing.
*iplus Top 1.1T, iplus Advanced 1.0T, iplus EnergyNTand iplus LST are the equivalent versions that must be toughened in order to increase glass safety and strength. After toughening, these products have exactly the same appearance as their non-toughened equivalents, making it possible to seamlessly combine two versions of the glass in the same glazed surface.